School Council
Launde Primary School Council meet regularly to help ensure the school is the best it can be. Pupils from each Year 2 - Year 6 class are nominated by each class to represent them at the meetings. We like working with children from different year groups, as part of our 'Launde family'.
The latest meeting information:
February 2022
At today's meeting, the children had lots of brilliant ideas for how we should celebrate the Queen's Platinum Jubilee in May. These ideas will now be taken to staff to arrange for the summer term. Well done, School Council. It was great to hear your ideas. We also discussed the importance of the non-uniform day on Friday, 'This is me!' theme.
Next meeting: Wednesday 2 March 2022
March 2022
The children fed back that they had really enjoyed 'This is Me!' day and that children felt important. We talked about lessons and which subjects they enjoyed and why. World Book day is coming up at the end of the wee so the children were going to tell their classes all about this, linking with enjoyment of reading. Well done Team!
Next meeting: 18 May 2022
May 2022
The school is interviewing some teachers that do not work at the school for the role of deputy head at the school. Ms Priddey asked the children what questions they want to ask them. They had some brilliant ideas. Many wanted to make sure the candidates were experienced and enjoyed working with children. They wanted to know their values too. The questions they came up with to ask, were as impressive as ever. We are looking forward to ask the candidates next week. The children have a voice at this school and this is one of the ways they can share their views. We then discussed Rania (Year 4) 's letter to the school council requesting ideas to help the environment. The school council wanted to help and will come up with ideas for the next meeting.
Next meeting: 15 June May
June 2022
School Council today was a very useful session, full of good ideas and suggestions. The children are happy in class, like what the teachers are teaching. Their favourite subjects were science because of all the experiments, English as the children get to use exciting vocabulary in their work. The want to remind their classes of the importance of using litter bins. They have decided to design posters to help the children remember to use the bins. The children also talked about lunchtime food. Ms Priddey is having a meeting with the lady so will share their ideas too. Such a helpful group of children, who know they have a voice. Well done children!
September 2022
Our first School Council meeting of the year! We introduced ourselves and talked about how important the role of a School Councillor is. The children filled in a survey about lunchtimes - what they like and their suggestions to improve. These will be used next Wednesday! There was a minute taker chosen and each member received a badge.
They discussed the importance of energy saving at school and all have taken on the role of turning lights off in the classroom when no one is in there and making sure taps are turned off.
Next meeting: 12.45pm 5 October 2022
October 2022
The school council met to share their views about playtime with Steve Harris, the trainer who has come in to work with the midday assistants, and Ms Priddey. They had lots of very helpful comments to share, both positive and areas that they would like to see improve. We talked about the role of the children in this too - sharing equipment, letting others join in, being welcoming.
November 2022
This week we reviewed how playtimes were going - lots of smiles for the initiative. We also talked about the lessons we were enjoying the most and why. The children shared the activities they were most enjoying. We also talked about the important school events that were taking place in the coming weeks - Remembrance day and Children In Need Day. The school council has been given the responsible task of selling the poppies so we worked out how the timetable for this.
Next meeting: 12.45pm 16 November
This week was led by Mrs Meer and we discussed the Children in Need arrangements and thanked them all for their hard work in selling Poppies during the lead up to Remembrance day. We also discussed our new Happy Lunchtime initiative and how they felt this was working. There were lots of positive comments, and they felt like lunchtimes have definitely improved for all children. They gave a few suggestions on how to make it even better and these have been passed to our Midday Staff.
The school council has been given the task of creating a list of games they would like to play at lunchtimes and at the next school council meeting they will give these in and they will be passed on to the Midday staff.
Next meeting: 12:45pm 30 November
This week we only had a short school council meeting where school councillors came with their class ideas on games and activities to use at lunchtimes. Our Lunchtime Staff were very impressed and have all been given a copy so that they know what the children want to play with. We also asked everyone to come back tomorrow for a surprise!
December 2022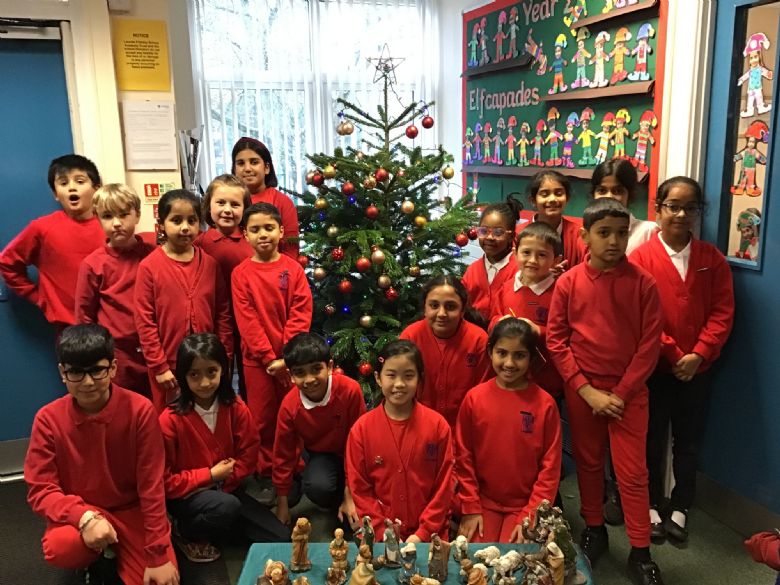 School Council Roles and Responsibilities
Our School Council's roles and responsibilities:
We are the voice of our peers.
We investigate the likes and dis-likes of our peers about our school.
We come up with new ideas to improve our school.
We plan and organise fun activities, visits and events for our school.
We work alongside adults such as Ms Priddey and the Governors to put forward new ideas and plan improvements for our school.