History Curriculum
In our History lessons, we encourage the children's curiosity about the past and the way people lived. In Foundation and Key Stage 1 we begin by teaching the children about the history of their own lives and important family members. We then extend the children to learn about the lives of significant individual both within and beyond living memory. As children move to Key Stage 2, we continue to develop a secure chronological understanding of the past. Throughout the school, we encourage children to ask questions about the past and to assess the reliability of historical sources. We teach the children about local, British and world history, considering the actions of others and relating it to their own experience where possible.
Our Intent
At Launde, we want all pupils to understand where they have come from and their own personal and local history. We want our children to understand that history isn't a subject simply about the unrelated times in years past, but how these events have shaped and influenced their lives today. Our children are a part of many different families with a huge range of differing experiences. By enabling children to understand their own history, and learn about the history of others, our curriculum is supporting the whole school values of tolerance and respect.
Launde as a community is supportive of our historical curriculum. From the very early stages, parents and grandparents support the children's historical learning by discussing toys and games from their youth highlighting how life has changed. With pupils, staff and parents, the children celebrate and commemorate key historical moments that they experience. These fun and exciting events give the children an understanding that history is ongoing and we are a part of it. It helps to embed the understanding that past events directly impact our lives today.
Our aim is to give our pupils a solid understanding of key historical skills, such as chronology and evaluating sources, enabling them to continue to thrive after they have moved on from Launde. The ambitious skills taught at our school ensure our pupils are ready to fully understand the Key Stage 3 history curriculum.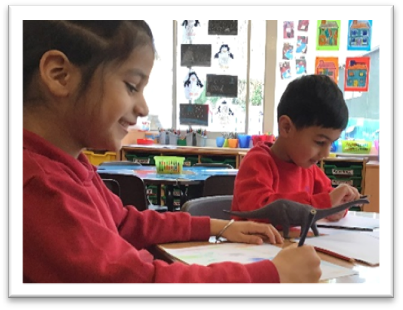 Our scheme of work is based on the national curriculum, but where possible the themes explored are related to local history. Examples of this are shown across the key stages, our younger children learn about how World War 1 impacted Oadby, studying the life of a soldier from their village. As the children progress to key stage 2, they engage in exciting debates linked to Richard III, the Plantagenet king famously found in a Leicester car park. From the beginning of their learning, we aim to embed an understanding of chronology in our pupils. To achieve this, we begin with family and the more recent past for our younger children, linking their work to themes that they can relate to such as Florence Nightingale and the importance of hygiene. The topics explored then progress further back historically but we ensure that they are not taught in isolation. Units are chosen with the children's age in mind. The complexity of the topics chosen for upper Key Stage 2 enables children to practice and develop historical skills which complement the Key Stage 3 curriculum taught in local schools.

Implementation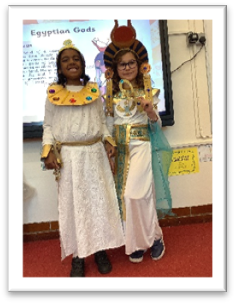 From EYFS through to Year 6, the history curriculum is ambitious and challenging for our pupils. Staff take children from an understanding that people lived differently in the past, through to a simple chronology of placing events in order. From EYFS, children are encouraged to talk about previous events using the past tense and their week by week class learning journey creates their own chronology of their school life. By Key Stage 1, children are becoming historical detectives, using objects, artefacts and clips to piece together famous parts of history. As the children progress to Key Stage 2, they are asked to assess bias and the reliability of sources ready to support them as the move to secondary school. Throughout the different stages in school, we are extending and challenging the children's historical understanding. These are taught through the concept of chronological order from Foundation to Year 5. Our lessons across the school demonstrate a balance of historical knowledge and key skills. We consider History as having three elements to learning – factual knowledge, substantive knowledge and disciplinary knowledge.
Factual Knowledge - Facts about the past - key events, place, people etc
Substantive Knowledge -The essential, underpinning, in-depth knowledge of a topic or time period that supports further historical learning. Concepts such as invasion, empire, settlement, social history, crime and punishment, communication and invention as well as chronological knowledge (knowledge relating to broader developments and the features of historical periods). This also covers rights, peace, invasion, trade, war, empire and monarchy. They are embedded throughout the curriculum so that each one is planned to be encountered multiple times throughout the curriculum. Substantive concepts are best understood with repeated encounters in specific, meaningful contexts, rather than being taught in an abstract way.
Disciplinary Knowledge -Knowledge about how historians investigate the past, and how they construct historical claims, arguments and accounts. Pupils learn disciplinary knowledge within relevant historical contexts (i.e. Ancient Greece) - through application to substantive knowledge. They answer key questions and this enables them to place their historical knowledge in a broad context. It helps pupils to understand the different version of the past can be constructed, and that historical narrative is partially dependent upon viewpoint.
The children are excited by the engaging subject content, for example learning about the Ancient Egyptians and how they lived through special theme days. Year 4 enjoy a fantastic Roman day, and the Year 5 children have a gruesome day learning about crime and punishment at the Galleries of Justice. Year 2 pupils are able to experience the reality of war on their own village by visiting a local war memorial and seeing the names of real people. These are only a few examples of how practical experiences enhance our curriculum and support the children's understanding of events. This interesting subject knowledge is then supported by embedding key historical skills; chronology, assessing sources of information and comparisons to their own lives.
We encourage our children from the very beginning of their time at Launde to talk to their relatives and learn more about their own family history. In school, we then extend this knowledge by teaching the children the local history of Oadby and Leicester. As they progress through school, they can compare and contrast their own history with the lives of others from across the world.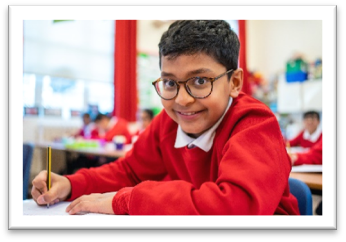 Staff work hard to ensure that throughout units, there are references made to previous work to help build an understanding of chronology. At the beginning of each new unit, children are encouraged to look back over previous topics, placing units in chronological order before beginning their new work. Subject leads support staff by providing a list of key historical vocabulary that has been previously taught, allowing staff to revise and consolidate previous learning. Interviews with pupils weeks after history units have been taught show that the engaging teaching methods used by staff enable students to recall historical knowledge long after the lessons have ended.
At Launde, we have a highly skilled and motivated staff. The teachers in each year group implement the key curriculum objectives to support their individual pupils. This is particularly effective in our teaching of SEND pupils. Their lessons are planned and adapted by the staff who know and understand their individual strengths and needs.
Impact
At the end of their time at Launde, pupils will:
Have an understanding of their own family and local history
Understand that history and historical events directly effect the way we live today
Have a good knowledge of a range of national and international historical events in line with the national curriculum
Have a sound knowledge of chronology of the units taught
Understand how we learn about the past from a range of different sources
Develop a critical eye, looking at the reliability of artefacts and resources
Progression Mapping in History
We consider 7 disciplines that are systematically developed in our history curriculum:
Chronological understanding
Historical Enquiry - asking questions, using sources and evidence to construct and challenge the past, and communicating ideas
Historical interpretations - understanding how and why different accounts of the past are constructed
Cause - selecting and combining information that might be deemed a cause and shaping it into a coherent causal explanation
Consequence - understanding the relationship between an event and other future events.
Change and continuity - analysing the pace, nature and extent of change.
Similarity and difference - analysing the extent and type of difference between people, groups, experiences or places in the same historical period.